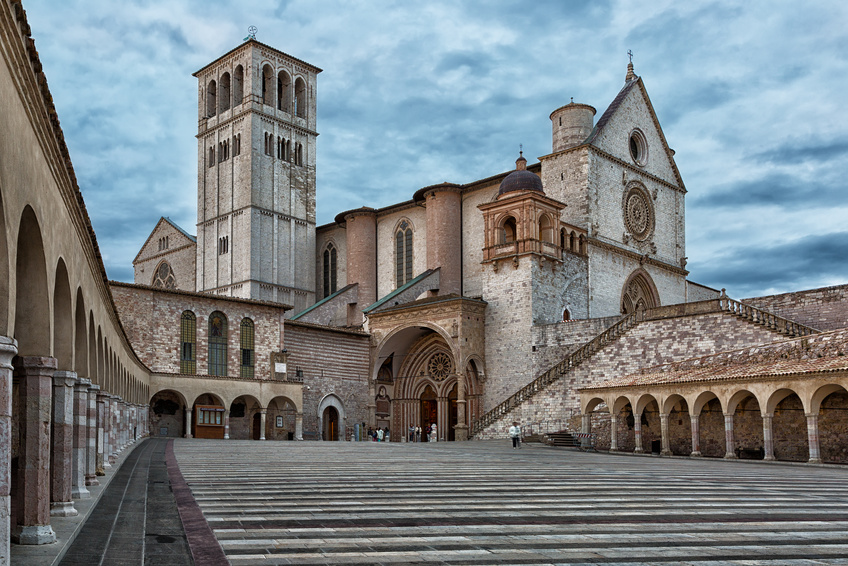 Up to 3 people: Euro : 500
Up to 6 people: Euro : 550
Up to 8 people: Euro : 600
Description:
Assisi is a beautiful medieval town which give birth to the Patron of Italy St. Francis, buried in the Basilica of St. Francis built between 1228 and completed hundreds years later. Today the town of Assisi is the center of the cult and the point of diffusion of the Franciscan movement in the world, focusing on the universal message of peace and tolerance even to other religions or beliefs. Assisi, like other towns in Umbria and Tuscany, was in the middle of the dispute between Guelphs and Ghibellines, which led to the supremacy of the Guelphs leading to clear dependence by Assisi on the Church State. In the 14th and 15th century, a period of substantial economic and urban growth, Assisi was the centre for many of the greatest soldiers of fortune, like the Visconti, Bracceschi, Sforza and Piccinino. Around the mid-16th century, Assisi returned to the Church State, until the Unification of Italy (1861) when it became part of modern Italy. Today Together with almost all its surrounding territory, Assisi is part of the UNESCO described as a unique example of city-sanctuary beginning with its Umbrian-Roman origins, through the Medieval Age and up until today.
Day like:
The Tour is 8/h usually it starts at 8:00AM . Your driver will meet you in the lobby or where you indicate. The drive to Assisi is about 2 hours, first stop will be in the lower Assisi to the church of Santa Maria degli Angeli to visit the famous "Porziuncola" , right after as we drive up to the old town you can admire the beautiful views and we'll have aquick stop at St. Damiano church. Once we reach Assisi you will have time on your own to visit the two main Basilica St. Francis, St. Chiara and have a wonderful lunch trying Umbria's famous products like olive oil, cheeses, selection of finest hams and salamis.
Helpful Info:
To enter any worship place you must cover up your shoulders and your knees.
Package Details
San Francis Basilica 8:30am - 6:50pm.
The Eremo prison on Mount Subasio 06:30am - 7:15pm.
San Damiano 10:00am - 12:00pm and 2:00pm - 6:00pm.
San Mary of the Angels (Porziuncola) 06:15am - 12:30pm and 2:00pm - 7:45pm.
Sant Chiara 06:30am - 12:00pm and 2:00pm - 7:00pm.
Rates
Up to 3 people: Euro : 500
Up to 6 people: Euro : 550
Up to 8 people: Euro : 600
Quick Contact
ROMETOURSCONNECTIONS.COM
(+39) 393 3177696
Related Tour Packages