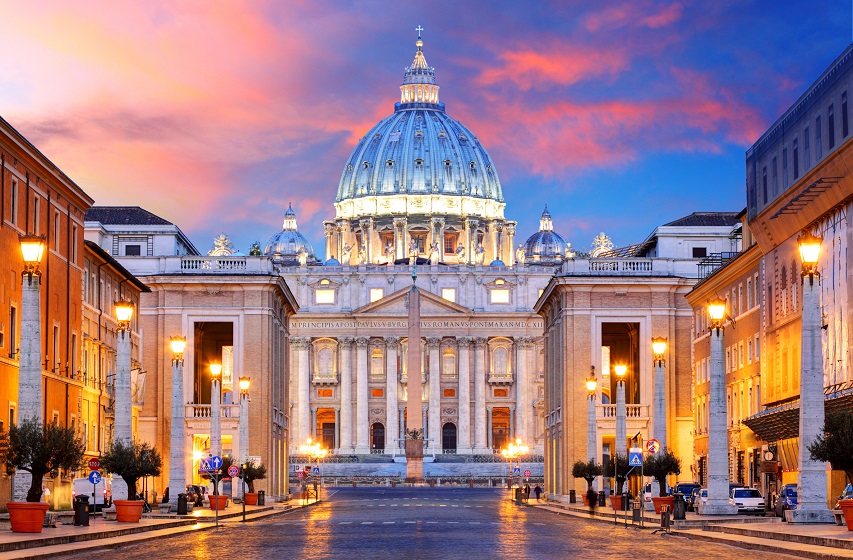 Up to 3 people: Euro : 60/h
Up to 6 people: Euro : 70/h
Up to 8 people: Euro : 80/h
Description:
Today the Vatican has an area of 44 hectare and it's a small independent nation thanks to the Lateran Pacts signed on the 11 February 1929 by the Holy See and the Italian State led by Mussolini. The Pope is the only Head of State with full legislative, executive and judicial power. Between the 1300 and 1400 the first nucleus of Vatican Palaces started to appear next to Constantine's Basilica. A section of these buildings become one of the biggest museum collection of the world "The Vatican Museum" it will be our pleasure to privately take you through some of the most famous areas such as the courtyard, Gallery of the Tapestries, Gallery of Maps, Rooms of Raphael and the Sistine Chapel, from which you can directly enter "St. Peter Basilica" avoiding all lines, completely built across the XVI and XVII century over the place tradition has St. Peter crucified in 67A.D., when Nero was the Emperor, the interior of the Basilica is a masterpiece of the young prodigy of renaissance architecture see Michelangelo's Pieta all the way through the elegance of baroque Rome as Gian Lorenzo Bernini will shows us.
Day like:
The tour is 3/h usually it starts at 09:00AM or at 2:00pm. We will meet you in lobby or wherever you indicate. Please keep in mind that touring the Vatican with a private walking guide and buying tickets in advanced, at the link we listed here below, is the only way to enter the museum avoiding the line which during the high season could be up to a mile long.
Helpful Info:
To enter the Vatican and any other worship place you must cover up your shoulders and your knees.
You are required to purchase tickets on line to avoid long queues for:
- Coliseum http://www.coopculture.it/en/colosseo-e-shop.cfm
Vatican http://biglietteriamusei.vatican.va/musei/tickets/do?action=booking&codiceTipoVisita=26&step=2
Always remember to get the reservation printed out and take it with you.
If you spend more than one day in Rome we suggest you to visit Rome and the Vatican on a different day.
Coliseum tickets: 14 Euros (Reservation fee included)

Vatican Museums tickets: 25 Euros (Pre-sales fee included)

Catacombs ticket: 8 Euros

Ostia Ruins: 8 Euros

Tivoli Gardens: 8 Euros

Etruscan Museum: 8 Euros


RATES
Up to 3 people: Euro : 60/h
Up to 6 people: Euro : 70/h
Up to 8 people: Euro : 80/h
*Add E.1,50 per person if earphones are required.
Quick Contact
ROMETOURSCONNECTIONS.COM
(+39) 393 3177696
Related Tour Packages