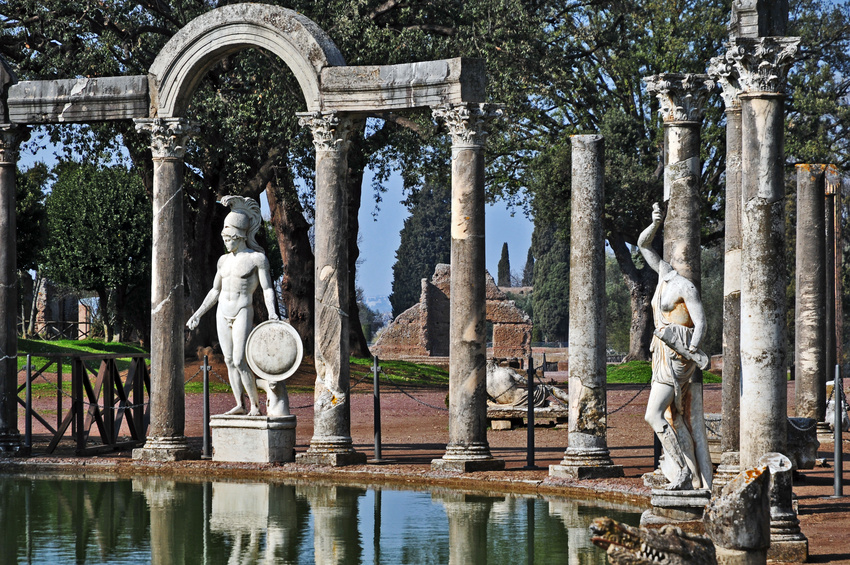 Up to 3 people: Euro : 500
Up to 6 people: Euro : 530
Up to 8 people: Euro : 550
Description:
Tivoli is situated along Rome's second main river the Aniene right near a great waterfall from the Tiburtini Mountains were the famous quarries of Travertine are. Popular throughout the roman empire for its climate and position as it controlled the whole traffic from the east coast toward Rome. The most remarkable structure left is Villa Adriana commissioned by Emperor Hadrian (117-138 A.D.) in order to use it as his summer Residence recreating areas which had visited during his journeys in Greece and Egypt. The second major structure left now days in Tivoli is Villa D'Este very well preserved since it dates back to the 1500 hundreds when Cardinal Ippolido D'Este become the city major of Tivoli and choose an ancient monastery as his residence. He called Pirro Ligorio and other artist to renovate the inside and the outside as well which is today the highlight of the villa the famous Gardens decorated with over 50 fountains completing working off a natural system of communicating vassals receiving the water from the river itself.
Day like:
The Tour is 9/h usually it starts at 08:00AM . Your driver will meet you right under the ship holding a sign with your last name on it he will always monitor time in order to have you back to the ship by 05:30 pm at the latest. The drive to city center and back to the port, due to traffic, is about 1,5/h each way. First stop will be at the Hadrian's Villa right after, before heading to Villa D'Este we will take you to the ancient part of the city for great pictures and to enjoy a good sandwich outdoor or to try one of the oldest restaurant of central Italy situated right across a waterfall next to the Temple of Vesta with a spectacular view called Sibilla.
Helpful Info:
To enter the Vatican and any other worship place you must cover up your shoulders and your knees.
Package Details
Hadrian's Villa E. 8,00 open 9:00am - 6:00pm
Villa D'Este E. 8,00 open 8:30am - 6:30pm
Rates
Up to 3 people: Euro : 500
Up to 6 people: Euro : 530
Up to 8 people: Euro : 550
Quick Contact
ROMETOURSCONNECTIONS.COM
(+39) 393 3177696
Related Tour Packages